What
You

Get? Best-Selling & Most Trusted HTML5 Template.
Experience the Ever-Growing Feature Rich Template since 2014.
+
Awesome Example Templates
+
Revolution Slider Layouts
+
UI Features & Shortcodes
%
Responsive & Customizable
Lifetime Free Updates + Much More..
Loved by
60000+

Happy Customers Powered by Top-Notch Support

&

Stellar Customer Reviews
Blocks
Get Started with Canvas quickly using the premade Section Blocks. Just Copy, Paste and Assemble.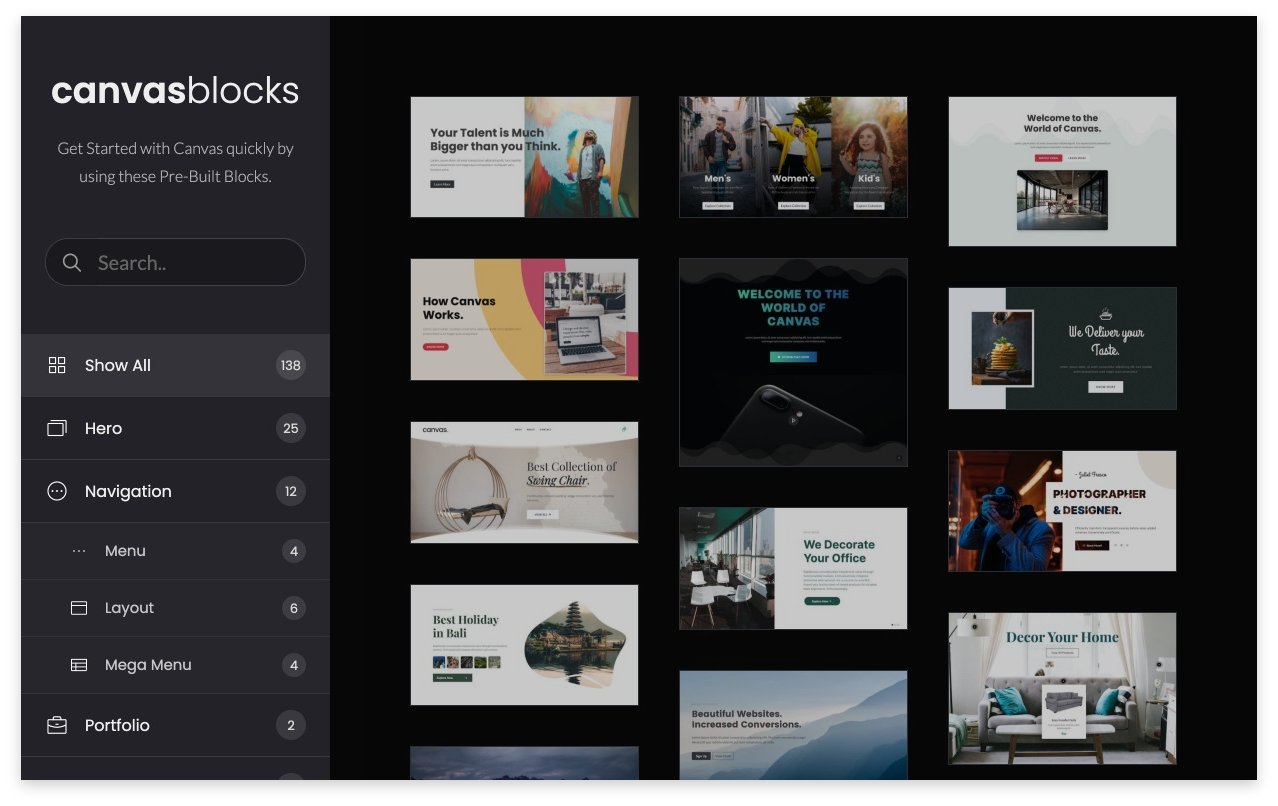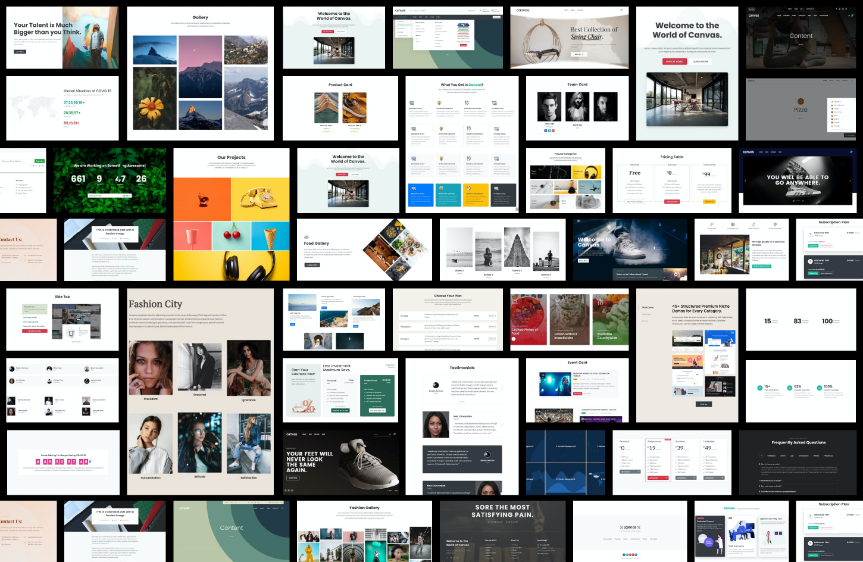 Many Options
Includes 156 Pre-built Blocks across categories.
Easy Setup
Just Copy, Paste & Assemble on any Template or Section.
Customizable
Easily modify the Blocks or extend it further.
1200+

Templates to minimize your Development Time!
Canvas
Forms
The Ultimate Form Processor
Any Form
.

Any Field

.

Add any Field to your Custom Form. Canvas's inbuilt Forms Processor will handle the rest. You will never have to touch any PHP Codes.
Unlimited Customizations
Customize anything within the Form, the Fields, the Loaders or the Messages. You now have complete control over what you want to display.
Email Templates
For the First Time ever, Canvas supports Email Templates which makes your Form Responses super easy to read and organize.
reCaptcha & Bot Protection
All the Forms are supported by Bot Protection and Optional reCaptcha Protection on top of the very secure PHPMailer Engine.
Component Support
All the Components included now works with Canvas Forms. Datepicker, Range Slider, File Uploads etc. all just work fine.
Auto-Responder & Personalization
Send Auto-Responders to your Form Submitters with Automatic Personalization. Like "Hey John, Thanks for your Message!".
We know the value of Your Time
Package
Generator

Beta

Create a Custom Package by only selecting the Files you need for your Project. This will help you get started super-quickly without needing to Browse through the Huge Package we provide by default and then sort the Files you need manually.

View In Documentation
See what's included in
Canvas

:
Customer
Ratings
&
Reviews
Great website template!!! Does anything you need!
It's an amazing collection of templates to build website faster than ever. Clear and simple to use!
Code quality also customer support five stars ! A real help that gets us out of isolation. This is the advantage of pro developers who do the job with passion. Thank you!
Best buy so far. The designs are very SEO friendly and neat
This is a very flexible product, and the ability to choose pieces from different templates to build a whole new creation with minimal fixes is incredible.
If I could select more than on main reason for 5 stars i would have. These cats have thought of everything just about. Plus they are good people. Buy this template. You wont regret it.
Great support, great documentation and you guys done a fantastic job in commenting everything, makes it very easy to customize, so thank you.
I wish that I could choose more than one reason for my 5-star rating! The Design is great, the features are fantastic, the documentation top-notch, and from what I've read in the support forum the customer support is great. This is a great template.
Excellent Template really versatile and well documented. Makes anyone look like a design professional.
This is the most robust template I've ever worked with. So much can be done with this multi-purpose package. Regular updates and enhancements add tremendous value.
I've been using Canvas for months now and it has exceeded my expectations. Their support has been great too.
I like Canvas because of all the features and their variations, such as the Portfolio. I can do so many different things with this theme, and I am already using it for my fourth website.
It has almost everything. Have a feature in mind? Just search for it in this theme, you will definitely find it. Amazing support as well.
Great customer support. It is amazing to be on top of these many comments and they are doing it very well. It is a great addon on top of their amazing template. Thank you.
WOW! Unbelievable amount of features. Extremely well documented. SUPER easy to customize... there's just so much to say... it's awesome!!!!!!!
It is very convenient that i can make a lot of pages from my site with uniform design. Code perfectly described in the documentation. Excellent professional and modern design.
The template is very useful if you want to work on Prototyping of any project before you start!!
Great Design, Features and Latest Update is Fantastic!
Fast response, whole lot of features, updates are always there. Keep up the good work! Really glad I bought it.
This template lives up to its name, truly a 'Canvas' for your ideas. The versatility and design are truly exceptional, not to mention the great Support SemiColonWeb provides on its comments section. Keep up the great work!
This is excellent! A most amazing suite of fully customisable options which at times almost presents too much choice! Ace!